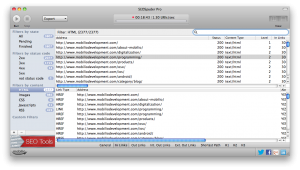 How do I crawl a site?

It all starts with the two buttons located on the left side of the top panel - "Run" and "Stop". The first one lets you enter a crawling site and choose who to crawl. In total, you have 18 options ranging from the well-known SEOSpyder, GoogleBot, and BingBot to several mobile bots and browsers such as GoogleBot mobile, Safari iPhone and Android Tablet. Nowadays, a lot of websites have mobile versions too, so crawling a mobile bot is just going to pick up speed.
Interface and storage of information after scanning.


The interface is intuitive and extremely flexible. The application window can be conditionally divided into 4 - upper control panel and specific scanning (crawl) panel, left panel where filters are located, upper and lower window, where in the form of columns and tabs the user has access to complete information that the spider has collected for the site. At any time, the two panels can be hidden from the "View" buttons and the columns in the two windows can be moved or removed.

Once the scan is complete and you hear a short beep, the user has 3 options:
Analyze information directly in the application;

Save information in the native * .seospyder file format, which can be uploaded later in the application;

Export information such as HTML Report, CSV file, XML Sitemap or GraphVz file;

Filters - the huge analytical potential of the SEOSpyder

In the so-called left panel are the built-in filters, which are considered to be the most important and commonly used filters. They are sorted by categories - status (All, Pending, Finished), content type (HTML, CSS, Images, JS, etc.) and HTTP status code (2xx, 3xx, 4xx, 5xx and not status code). In addition, the user has the opportunity to design their own (custom) filters.
This way, he/she can research his / her site for almost any type of error and malfunction, given the fact that a filter can contain an unlimited number of parameters. For example, you can easily identify which images on your site have a .png extension, are larger than 50Kb and load in over 2 seconds, or which of your pages have less than 2 inbound links containing the word SEO.