Description of SEOSpyder - Overview
SEOSpyder is a "crawling" software that was created by Mobilio specifically for Mac OSX. It works on the principle of search engine bots - it enters your site as a designated user agent (chosen by you), follows each link, and at the same time collects "one bag" of metadata for the links themselves and the pages/sites they lead to.
This can easily detect status code type 404 or 500 errors, several H1 tags on one page, images without "alt" attribute, two links with duplicate content without specifying which one is canonical or several unnecessary redirects ( status code 3xx).
Generally, all things that, if indexed by search engine bots, can have quite a negative effect on the long term efforts of an SEO optimizer.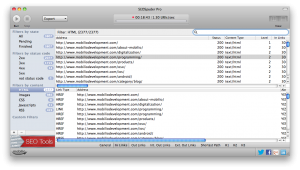 How do I crawl a site?

It all starts with the two buttons located on the left side of the top panel - "Run" and "Stop". The first one lets you enter a crawling site and choose who to crawl. In total, you have 18 options ranging from the well-known SEOSpyder, GoogleBot, and BingBot to several mobile bots and browsers such as GoogleBot mobile, Safari iPhone and Android Tablet. Nowadays, a lot of websites have mobile versions too, so crawling a mobile bot is just going to pick up speed.
Interface and storage of information after scanning.


The interface is intuitive and extremely flexible. The application window can be conditionally divided into 4 - upper control panel and specific scanning (crawl) panel, left panel where filters are located, upper and lower window, where in the form of columns and tabs the user has access to complete information that the spider has collected for the site. At any time, the two panels can be hidden from the "View" buttons and the columns in the two windows can be moved or removed.

Once the scan is complete and you hear a short beep, the user has 3 options:
Analyze information directly in the application;

Save information in the native * .seospyder file format, which can be uploaded later in the application;

Export information such as HTML Report, CSV file, XML Sitemap or GraphVz file;

Filters - the huge analytical potential of the SEOSpyder

In the so-called left panel are the built-in filters, which are considered to be the most important and commonly used filters. They are sorted by categories - status (All, Pending, Finished), content type (HTML, CSS, Images, JS, etc.) and HTTP status code (2xx, 3xx, 4xx, 5xx and not status code). In addition, the user has the opportunity to design their own (custom) filters.
This way, he/she can research his / her site for almost any type of error and malfunction, given the fact that a filter can contain an unlimited number of parameters. For example, you can easily identify which images on your site have a .png extension, are larger than 50Kb and load in over 2 seconds, or which of your pages have less than 2 inbound links containing the word SEO.
What and how does SEOSpyder show data for a site?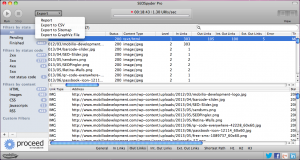 Once you have selected a filter, all the links that match that filter are displayed in the window above. There, for each URI, you will find 36 unique features ranging from Address, Status Code and Content-Type to Publisher (Google Authorship), Inbound and Outbound links, Meta Description, even OpenGraph elements.
And this is not all SEO information with which SEOSpyder is ready to flood you. Select one of the links and continue exploring it further by going to the window below. There you can see again the 36 features, all inbound and outbound links (including both inbound and outbound), the shortest path to a given link, and header tag information (H1, H2, H3).
If you are still not convinced that SEOSpyder is the best on the market as a "crawl" and analysis software, then right-click on a link and enjoy the range of product options:

to "listen" to social alerts via SEOAuditor - Google PR, Alexa Ranking, Facebook Likes, Tweets, G + shares, SEOMoz DA & PA;

ping a link (draw bots to index it) with SEOPingler;

validate the page with W3 validator;

Check how fast it is charging, how it looks on mobile devices, or when it was last cached.
copy the link or open it in a browser;

in the lower the window you have the option "GoTo" which allows you to move the focus in the upper window of the corresponding link and start exploring it;

Exporting data
It's absolutely easy to export the crawled data (see the screenshot above).
SEOSpyder Advantages and Disadvantages
Pros
A wide variety of bots and browsers

Extremely rich SEO information for each link;

Intuitive, flexible and well-structured interface that makes finding and removing problems in a site easy and fast;

Availability of custom filters and correspondingly unlimited analytical potential;

Integration with a number of SEO products and services that provide SEOSpyder with a fairly broad functional spectrum;

Cons
Slightly slower scan speeds than the competition;

Works on MacX only;

Scans only the specified domain, not its subdomains;

You cannot add/edit a filter while the an analysis is running;
SEOSpyder Review - Final Thoughts
SEOSpyder is software that offers more than an adequate solution to the "daily aches and pains" of any SEO optimizer. With it, the effort you put into your workflow will be reduced by at least half, and site optimization and maintenance will seem like a kid's game.
Given the current state of the market for such products, it can be safely argued that SEOSpyder is competing, and in some respects, even outperforming its opponents. In short - the app has unique functionality and is worth every penny. In the long run, the investment is more than justified.
Frequently Asked Questions
No added frequency questions and answers yet.