Monumetric (former The Blogger Network) is an American ad-mediation company that compiles a revenue based on CPM (Cost Per Mille), PPV (Pay Per View), CPC (Cost Per Click), and many more models. Multiple ad providers compete with each other, bidding for publisher impressions. In the end, Monumetric guarantees a heavy income that can range from 50% to 400% higher compared to Google Adsense.
In this article, we will look at how the site approval process is reaching, as well as ad integration, and fundraising in the first few months.

Keep in mind that we present what's happening in real-time, so you can periodically come back to the page in order to see how it's going on.
Requirements and Application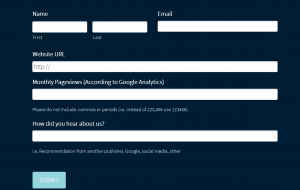 Source:
The company's requirements for new publishers are extremely low compared to other similar platforms - for example, MediaVine.

(1) At least 10,000 page views per month
(2) Mostly visits from the USA, UK, Canada, so on (Tier 1 countries). In case, you have international traffic, it's still possible to get approved if your website has 10,000 pageviews from Tier 1.
(3) Pay installation fee ($99) initially. It's applied for websites with low traffic, under 80K page views per month.
(4) The website must comply with Adsense Terms.
Application Process takes a few minutes to fill a form and then just wait for a response from Monumetric's team. Receiving an email from an account manager arrives in the next days (up to a week).
Advertisers Approval
Monumetric checks the suggested website and if it meets the requirements, then submitted to their advertisers for approval. This process can take 1-2 weeks. The company takes every conceivable publisher seriously and approves sites only when they can increase the publisher's revenue. For this to happen, all advertisers must agree to bid for gaining the website impressions.
Meantime, the account manager keeps you in touch. Also, at this time you'll discuss goals, strategies, and ad unit placement.
Website Quality Assurance
Monumetric does an in-depth review of your site to determine it qualifies for advertising. As we mentioned above, the website should comply with Adsense Program.

Timeline (Monumetric Flow)
Website details:
international traffic - 1/3 visits from Tier-1 counties, 1/3 from Tier 2.

entertainment niche

about $1.50 per 1.000 page views with Adsense
Goals:
To reach at least double our revenue or $3/per thousand page views.
[January 1, 2020] We sent an application.
[January 3, 2020] An account manager contacted us.
[January 6, 2020] We joined to Google Ad Manager.
[January 7, 2020] Set goals, planning, and waiting for advertiser approval.
[January 13, 2020] Bunch of questions on our side and great communication.
[January 20, 2020] Great. We were approved. Let's begin with the implementation. We choose custom integration since our website is not a CMS (Content Management System) platform.
[January 28, 2020] After a few issues with the ad placing, we are ready to serve ads.
[January 29, 2020] Now, introduced to the Publisher Success Team, responsible for ad management and enhancement.
[January 29, 2020] Our income is triple less compared with Adsense.
Advertisers still not bidding for the website impressions. Monumetric explains that will take time and the revenue will continue to grow.
Now, we've gained $0.50 per 1,000 page views on an average basis.
[January 30, 2020] Almost a week with Monumetric Ads and our PageView RPM climb to $0.86.

[February 17, 2020] 18 days later, Monumetric Ads and our PageView RPM raise to $0.97.
[February 25, 2020] A month after settling Monumetric Ads and our PageView RPM reached to $0.99. For the last 7 days, it is $1.06. Together, with the Publisher Success Team, decided to apply a new strategy to increase the numbers.
[March 7, 2020] Since the last update, we improved the performance significantly. The average PageView RPM is $1.61 on an average basis. We increase the number of displayed ads (up to 6 per session, before the change we showed about 4 ads). Even the increasing of served ads per page, another possible reason to achieve better RPM is the fact we passed the weakest month of the year - February. As you may know, the advertisers have the lowest budgets in the first two months of the year.
[March 17, 2020] Due to coronavirus and shaking of digital advertising decreasing budgets, our income also cut down. PageView RPM came $1.41 for last week. Note: Q1 almost done and will be interesting what's going to happen in Q2.
[April 04, 2020] The end of the March and the beginning of April is definitely the worst period for our project. Double decreasing of the revenue, lowest ad serving, and weak results as overall. Our traffic reaches record-breaking levels but still, the ad revenue is weak comparing previous months.

[May 15, 2020] The number of ad units per page continues shaking but keeping the numbers from the previous month. Our average PageView RPM is $0.87 (data split for the period - 01 May - 13 May). As a comparison, for April the number was $0.85.

[June 19, 2020] Still the results are not satisfying but for the last 30 days, we received an average PageView RPM: $1.11. This benchmark concludes the period 20 May - 17 June 2020. Probably these efforts are a result of the most aggressive ad serving. Monumetric served 5.33 Ads Per Session which means the advertisers bidding most actively for gaining ad impressions (previously we show 4.22 Ads Per Session). Still, the graphics cannot reach the period before the crisis (March 2020).
[July 17, 2020] We acquire better performance between June 17 and July 16. Our PageView RPM reached $1.32. A significant increase noted when we speak about the number of displayed ads per session. For this period we tracked 8.55 on an average basis. Seems like the advertisers spent not exhausted budgets at the end of the month. In the last 7 days of June, the average PageView RPM was $1.88 but as expected in the first days from July we noted amending down to $1.05. So, the revenue is still not stable. But a few positive marks for the last 30 days: advertisers started bidding more aggressive and this happens in the last week of the month. The result is - more bidding advertisers = higher bidding price.
[August 15, 2020] In the middle of the Q3, we noted decreasing. The data have been reported for the period from July 17 to August 15. Our PageView CPM came $1.22 and this is not a product of a bigger quantity of serving ads per session, 8.97, because we found this parameter standing higher as ever. No matter this, we should mark the worst CPM price that appeared in August (01-15 August) - $1.16. We hope, at the end of QUARTER 3 to see a satisfying CPM rate.
[September 16, 2020] As you know Q3 almost done. Reportings for the period from August 17 and September 16 display significant growth. Our PageView CPM scaled to $1.52. We keep the number of shown ads for a session to 8.64. At the end of August, our CPM was $1.42 and this arose in the next two weeks to $1.62. This result is near March's potential. This means the last quarter could be grateful.
[October 18, 2020] As you know Q4 began. Our reports for the last 30 days (September 18 - October 17): PageView RPM $1.57. 7.41 ads per session displayed. The last 2 weeks from Q3 - RPM - $1.78. For the September: $1.72. October 1 - October 17 - $1.40.
Advantages and Disadvantages
Advantages of Monumetric:
Amazing technical support

Payment Methods: Paypal and Direct Debit (only for the USA publishers)
Polite and cooperative

account manager
Disadvantages of Monumetric:
limited dashboard insights and delay of a day (the revenue stats are not real-time). Sometimes the data delayed with a week because of Missing Reports.

pay once per month, on net 60 terms (net 60-term will begin at the end of each month)
Our expectations were extremely high because of the reviews found on the internet. Well, no one could predict or guarantee results.
According to Thisonlineworld, the rate for 1,000 pageviews is approximately $40. BlogginExplore claims that the average revenue is $6-$14 per thousand page views. The result of Perfectionhangover is about $11 for the same quantity of page views. Passiveincomewise has noted $7. Just a regular Reddit User compares Adsense with Monumetric and reports $3 per 1 000 and increasing with 300% after migrating to Monumetric.
Why the income may vary?
(1) geo-location of the website visitors
(2) the niche of the website
(3) total impressions of the website and user engagement
(4) Monumetric warns that the revenue on the holidays is heavily higher and the advertisers have set budgets for each quarter.

(5) mobile or desktop traffic
(6) If you're approved soon then you can expect a 30 day normalization period.
According to Monumetric, "This period is important for troubleshooting initial problems and allowing premium advertisers time to target and test your domain's performance".
Monumetric Dashboard shows a list with 'Missing Reports'.
According to Monumetric Team, these reports have been sent by advertisers and need to be split with Monumetric data. Sometimes, this sync between both sides could take a while and it's not rare to see missing reports for days.
A new data display interface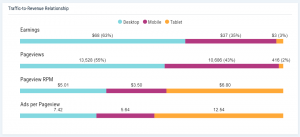 Monumetric announces a display interface that improves some metric insights. It is replacing the previous version of Publisher Console Dashboard, upgrading the oldest statistics with some additional like Traffic-To-Revenue Relationships, where Monumetric compares earnings by devices.
According to the company press release, this improvement is the beginning of a more detailed Dashboard, containing the exclusive features.
This Publisher Console also gives quick cards on the top of the page, as a visualization of the latest achievements.
We currently do not have any universal insights or predictions on how the coronavirus pandemic will impact ad performance. To this point, the effects have varied greatly on a website-to-website basis. We will pass along any relevant information we find from our data or learn from our demand partners. What can you do to ensure your site is reaching its full potential? Double-check below that your ads.txt file is 100% up-to-date, and reach out to our Publisher Success team if you have any questions regarding ads.txt or its importance.


This is the statement of Monumetric regarding losing possible earnings. Nothing can be done! Coronavirus pandemic impacts budgets and advertisers await. The world crisis due to coronavirus isolation probably will change the market budgets and also shrink ad performance, keeping the business with empty hands for a long time.
"This reality has spurred our team to find new and effective ways to improve our ad products to help you prosper as much as possible right now!

As one of those improvements, you will notice, within the next 48 hours, an upgraded ad unit on your website that floats at the bottom right or left side of your screen. This ad unit is referred to as a "pillar" ad. It boosts the viewability of your URL's ads and creates an engaging experience for premium advertisers to buy.
This ad is only available on desktop and some tablet screen sizes.

Based on advertiser interest and spending trends, this ad-type is the top-recommended display ad placement by our partners at Google.
We're updating all of our website partners' ad code to include this ad type to help bolster your revenue during the pandemic downturn."
Monumetric Update Newsletter.

As a result, we've seen floating ads in various sizes shown on the sidebars without extra cost pieces of code. They're loaded dynamically.
Frequently Asked Questions
Do Monumetric Ads hurt SEO of the website?
Since Monumetric serves Adsense Ads as well, the answer to the question is NO. Removing the Adsense code cannot be the reason for failing SEO results. In fact, Monumetric Ads loads very fluently and faster than Adsense pieces.