Step One: Choose the best site-building platform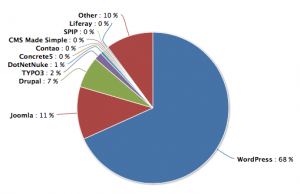 Source:
What do we mean by "platform"?

In 2004, when we decided to start creating websites, most sites were made using HTML (code), CSS and even Flash. It took a long time to learn and was really difficult to learn.

For this reason, more people still think that creating a site is a difficult task, requiring both good programming and design skills - but this is no longer the case!

In 2015, Content Management Systems (CMS) like WordPress made the creation of a website accessible to anyone who wants to know how a site is built with drag-and-drop elements and an easy installation process.

Content Management is an easy-to-use platform for building websites and managing your own online content, rather than using a bunch of HTML pages.
Why does AidWiki recommend WordPress?
WordPress is a free platform, with a HUGE selection of themes (design templates) to choose from
WordPress doesn't cost a penny to download or install, and it also has a large community that creates great themes and designs for free. This helps you find the right theme for your site faster and build it faster.

It is extremely easy for beginners
If you know how to use Microsoft Word, you already know how to add your own content. WordPress can be expanded with plugins to handle just about any site you can imagine - from business pages to social networks.

Incredibly powerful
From blogs, photo sites to business pages and even online stores, WordPress can handle any web site - and there are thousands of add-ons (plugins) to expand its capabilities.

Mobile friendly
What do I mean by that? Your website will look not only good on computers and laptops, but on any mobile device, smartphone or tablet.

There is a huge developing community that is always ready to help
With so many people using this platform, it's easy to find the help you need, as well as plenty of free resources to help you understand everything you need.

Leave a comment below if you have any questions.
Step Two: Choose a domain name and hosting plan for your site
To launch your new website online, you will need the following two things:

Domain name (your site name, such as www.aidwiki.com)

Hosting (a service that connects your site to the Internet)

The WordPress platform itself is free, but a domain name and hosting plan combined will cost you around $2-$5 per month.

This is less than the cost of a movie ticket, and you will be able to use the best platform on your own domain.


The entire creation of your site will cost no more than $45.06.

Plus, owning your own hosting guarantees that your site will load quickly and will not be accessible for hours (quite important for your visitors).

Where to get a domain name and hosting?

Currently, I use www.Ipage.com as a web hosting and domain registrar for all our websites. I recommend them to you too.

* All links to Ipage on the site are affiliate. This means that for every purchase I will receive a commission and you will receive a lower price. This way we keep AidWiki up to date, as well as upload new tutorials, articles, and more.


Why Ipage?

Quite Cheap Prices - They offer cheap prices with extremely good customer service and amazing quality.

Easy Setup - Installing WordPress on Ipage is extremely easy, with just one click.

Fast Site - Other hosting companies load your site very slowly. I have never had such problems with Ipage.

24/7 Support - If something happens, they have very good support for their customers via phone, email or chat through their site.

Free Domain Name - Currently offering a free domain name. This, in turn, will save you $12-$15.

They currently offer an unlimited number of professional emails to your domain name - so it's worth a try.

When you get a domain name, you will also be able to get your own email: [email protected] - so far more professional than a Gmail or yahoo address.

What domain name should I choose?
The shortest possible domain name

The domain should be short in order to be easily memorized and written. Currently, the most popular extensions (.com, .net, .eu, and .bg) have virtually no short names, such as two or three characters. However, with the launch of new domain extensions, it is still possible to keep your unique short name. The shorter the name you choose, the easier your users will find you on the web. However, this rule should also not be abused, as registering short but meaningless letter combinations would hardly contribute to the popularity of your site.

To be easy to remember and not to cause confusion when spelling

The domain name to give an idea of ​​the content of the site and to be the face of your business on the Internet

This is an important requirement to make it easier for users to find your site when searching. Search engines like Google, Bing, etc. will also index and rank you in a better position. Nowadays, information on the Internet is an integral part of business presentations. The vision of doing business on the Internet is initially represented through the domain. It provides valuable information about search engines and is also good to consider in terms of SEO (Search Engine Optimization).
Do not use a brand name or trademarks
You may lose your domain name if you use trademarks. For example, avoid domains like gogle.com, coca-cola-2020.com.

Domain Extension - .com, .net, .bg, .guru, .clothing, .holdings, .org, or other

By far the most popular extension on the Internet is .com. This means that if you sell shoes through your site and your site is called shoes.com and your competitor's name is shoes.net, users are more likely to type your domain name first. If you are still creating a commercial site, it is best to keep the name in several extensions as an online store, with all the more popular ones like .com, .bg, .net, .info, .eu and more.
Considering that users will only open your site, whatever extension they write - the price of each of these domains is well worth it.
We recommend you to register .com

Incorporate the domain into your marketing strategy

If your site is business-oriented (such as an online store, online media, portal, or representative site for your business), it is best to choose a domain as part of your overall marketing strategy. Include a domain name or domain names, considering what product names you will need and what exactly you want your business to associate with your users.

Act now, do not delay registering a domain name for a long time

When you find "your" domain name, register it immediately. Even if the project development is at an early stage.

There is one rule that always applies to domain names: If you like it, do not wait but register it.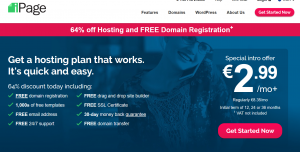 Source:
After you entered, click on the 'Get Started Now' button.

* Note: Design of the site (iPage) and prices could change anytime but mainly it's the same as shown above.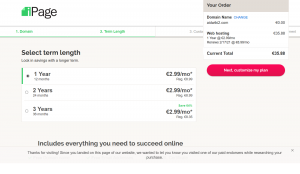 Source:
In the next interface, you'll be able to choose 'term length'. It means, for how long you would like to pay. Most hosting companies do amazing discounts if you prepay for a longer period.
What you'll get?
Free domain name (for 1st year of the registration)

Free SSL Certificate

Free Website Builder

Unlimited Domains (you can have more than one website to this hosting)

30 Day Moneyback (in case you're not satisfied, read the ToS)
Note: Domain Price is $0.00 for the 1st year and should be renewed annually. In this case, if you choose 2 or more years, the price of the domain will be discounted but not free.
Click on the button 'Next, customize my plan' to keep going forward.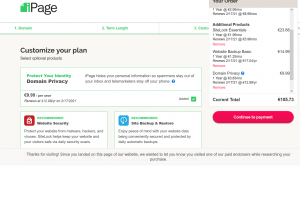 Source:
LPage will give you an option to customize your plan and pick up additional gadgets. In our opinion, deselect the checkbox as follows:
You won't need domain privacy - this is when you want to keep your safety as an owner of the website and also domain safety - the details such as when it expires and many more.
Website Security - Most sites haven't Sitelock and they're online and not hacker's attack detected. Anyway, if you're worried about the website security, don't deselect the option.
Site Backup and Restore - Usually, hosting companies like LPage keep a one-week backup to your website. In case, you would like to keep up-to-date a copy of your website, don't deselect the checkbox.
Website Builder - By default, it's not selected. It's a tool to build static websites. In our case, we will use Wordpress for dynamic websites. Otherwise, select the option if you plan to create a business (static) website without Wordpress.
WordPress Optimization - We will optimize your Wordpress site later and it will costs zero.
Business Solution - If you won't need the gadgets described, make sure the option is deselected.
In the end, click on the button 'Continue to payment'.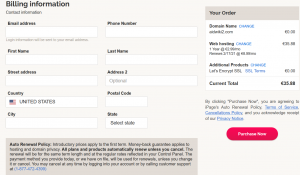 Source:
Fill the form with your names, addresses, etc. Billing information (Contact) must be real.
You'll be able to pay with Debit/Credit Card or Paypal. Just scroll down on the page.
Auto-renewal means that your domain will be re-registered automatically (before expiration date), using the saved payment method on your LPage Account (Paypal or Debit/Credit Card). After finishing the order, you can disable the auto-renewal from the Control Panel.
Click on the button 'Purchase Now' in order to finish the order.
Next, go to your email and follow the instructions there to verify your domain and contact information.
Step Three: Create your WordPress website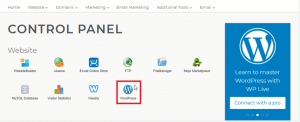 Now is your time to create your site and make it visible on the Internet. The first thing you'll need to do is install WordPress on your website.

Installing WordPress

There are two ways to install WordPress - manual and automatic.

Automatic Installation in just 1 click.

Any reliable and well-established hosting has integrated a 1-click installation for WordPress, making installation really easy.


Here are the steps you should follow:

Log in to your hosting account (on LPage).

Go to the control panel.

Search for the WordPress icon.

Select the domain on which you want to install your website (Select Domain For Installation).

Click the "Install Now" button and you should be able to access your NEW WordPress website.
Set the WordPress settings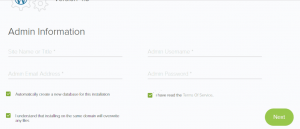 In the "Site name or Title" field, you must enter a name/title for the site - don't worry, you can change later on WordPress panel.

In the "Admin Email Address" field, enter your admin email address.

In the "Admin Username" field, enter the username that you will use to log in to your site.

In the "Admin Password" field, enter the password to log in to your site.
Click on the button 'NEXT'.
Great. Your Wordpress is ready to use
You can visit your domain through any browser. Also, you can change the setting of the site through the Admin Panel.
Wordpress Website - Themes, Plugins, Articles
Follow the video below to see how to pick up a free template for your website and how to install it.
Follow this link to see how to set up your WordPress site (knowledge how to use plugins, writing articles and many more).
Frequently Asked Questions
No added frequency questions and answers yet.