Google Images is a web tool to search for different types of visual content in the search engine. Users are able to find the information they need with the broader context around images through the various features Google has published in recent years. Nowadays, we have the ability to see enough useful information in Google image results to guide us whether or not to take action in the results themselves.
Google Images History - How It grows
Google Images is owned by Google Inc., which is part of Alphabet Inc. At the dawn of Google in 2000, the results were reduced to text pages only.

Google Images was launched on July 12, 2001, due to the high number of searches for Jennifer Lopez's photos and the famous "green Versace dress." The rate of growth of indexed images is remarkable, see how many:


by the end of 2001, the total number of indexed images on Google reached 250 million

by 2005, over 1 billion

by 2010, over 10 billion

to date, it is estimated that there are over 50 billion indexed images (unofficial data)
How Google Images changed?
In 2009, an image recognition feature was introduced. Next year, functionality was added to display additional information as the mouse moved through the image. In early 2011, Google announced a new image filtering update by category scheme. At the end of the same year, an option was added to search by uploading to another image or directly by adding a URL. In 2012, a new algorithm was introduced to filter out results that are inappropriate for minors. However, when searching for phrases directly related to similar searches, such results appear in the image search engine.

One of the last major changes is from February 2018, when the interface was last modified to partner with Getty Images (a stock image provider). The change affects the option to download images directly from Google Images. In this way, Google encourages users to enter the source of the result, which is also the owner of the image (we will explain below in the article why the author of the image does not always appear among the first results in Google Images). The Copyright button has also been enlarged to make it more visible to users.
How Google images works - Simple Search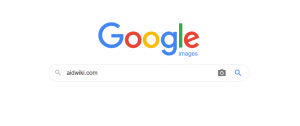 There are two URLs that Google Images can access:

https://www.google.com/imghp?hl=en
https://images.google.com


If you want to search on Google Images, you need to enter a query (word, phrase, or long-phrase) or directly input an image.

A word or phrase search (default)
Type a phrase or keyword into the Google Images and click on the Enter button on your keyboard or the search button on Google Images. For example, we introduce "Aidwiki.com" and the result is this. However, this is a fairly simple task for Google and is expected to be easy to handle.
Search Photos by URL or by uploading an image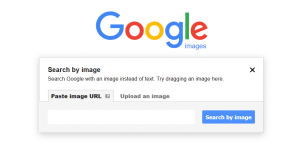 Search by pasting the image URL, which allows you, for example, to add an image address (URL) from a website, and then Google will try to identify that image and, on the basis of it, provide you with relevant results. In this approach, you can find if a particular image has been used from another website.

Uploading an image lets you upload a photo from your computer (device) and find relevant (similar) results to your image, or the image itself if it is not your property.

Google is clever enough to include the so-called. neural networks that examine the relevance of the image and attempt to recognize the request. Even this, the tool grab metadata from each photo such as 'alt' tag or technical parameters like dimension.

Using tools in Google Images
Google image tools are divided into several basic types:

Size

Color

Usage rights

Type

Time

More tools, which includes "Show tools"

Size

This tool allows you to filter your results for:

All sizes (default)

Great

Medium

Icons

That's right - you decide the size yourself

Resized images. It is a handy a tool, but at the same time, it gives us a lot of valuable information, besides being useful for users. If a user is looking for the right image size ratio, and we are the only ones who offer it, then the ability to rank is significantly higher and thus will gain traffic to their website.

Here is a list of all sizes:


400 × 300

640 × 480

800 × 600

1024 × 768

2MP (1600 × 1200)

4MP (2272 × 1704)

6MP (2816 × 2112)

8MP (3264 × 2448)

10MP (3648 × 2736)

12MP (4096 × 3072)

15MP (4480 × 3360)

20MP (5120 × 3840)

40 MPx (7216 × 5412)

70 MPx (9600 × 7200)
Color

Here we have the ability to filter by color, here's how:


All colors (default)

Full color

Black and white

Transparent

Color filter
Usage rights

This is quite handy if you do not want to fall under the copyright law of any country or institution. Here are the possibilities:

Marked for reuse and changeable (default)

Marked for reuse

Marked for non-commercial reuse and changeability

Marked for non-commercial use

Type

Here you can take advantage of filtering by image type:


All types (default)

Persons

Photos

Graphic collections

Sketches

Animated

Time

This is very useful if you are looking for an archive or something up to date. However, it's one thing to look for Jennifer Lopez's image from 2001 and one from 2019:


No matter when (by default)

The last 24 hours

Last week

Last month

The last year

Specific date range

More tools

You don't have many options here, so you have to choose from:

All results (default)
With dimensions shown


Difference between Mobile and Desktop

We have not deliberately given an example or compared mobile and desktop image searches. The reason is very simple.

We are many times more limited on a mobile device and the main difference is in the filtering tools, which are not actually present as such in mobile image searches but are arranged in a horizontal bar.

The categories are identical to those on desktop devices, but let's check out what is present in desktop search tools in mobile search:

Newest. This is only available on mobile devices and is sort of a shortened version of the desktop by search date.

GIF. It's quite convenient and not present on the desktop.

HD. It's quite convenient and not present on the desktop.

Product. It is quite convenient and not present on the desktop, and we will affect it in the section "Google Image Optimization".

In different (commonly used) colors (present on desktop)

Marked for reuse (present on desktop)

Graphic collections (present on desktop)
Frequently Asked Questions
No added frequency questions and answers yet.