Chaturbate is the largest webcam website in the world. With more than 345 million unique sessions per month, according to SimilarWeb, it provides you great opportunities to begin as a webcam model quickly.
Turn on your camera and get your first payment. It's not needed to get naked or fapping. Some performers make money by chatting. Be polite and conversational. Collect followers and viewers to increase your visibility on the site.
Get $1,000+ on Chaturbate NOW.
Increase your monthly income without extra skills.
As most webcam companies, Chaturbate requires:
the models must have at least 18 years old.

the models must create an account.

the models must provide a scanned copy of their private ID in order to verify their identity (it's easy to process and is a must when you would like to get money on Chaturbate).

the models have to set existing payment methods, such as Paypal Account, Bank Wire, etc regarding receiving a revenue.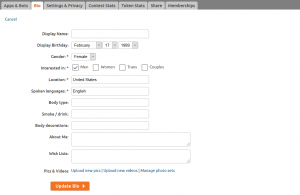 Pick up a username
If you have a very special skills, make it highlighted. Perhaps, you'll not that kind of familiar yet, so the thing is: make your username/nickname being memorable and short as possible.
After registration, you will be able to choose 'display name' that is not the same as the username.
Use a valid email address
The Registration form will oblige to fill an email address. After clicking "CREATE FREE ACCOUNT" button, you'll be urged to validate it using the link sent to your email address.
You can broadcast immediately, even without a validated account but you won't be able to receive tips.
Gender
Chaturbate has four main categories – Male, Female, Couples, Trans.
Select the right gender during your registration. Your room will appear as default to one of these categories. Chaturbate allows gay couples to mark 'Male' instead of "Couple".
Edit your bio
Chaturbate allows nicknaming the username (display name), your birth date, as well as your sexual interests, languages, and locations. Be descriptive regarding your body shape or decorations, habits, and fetishes. Tell your life story or lie about it but keep the story alive when you're asked.
Don't mention private chatting or any personal apps for communications like Skype. Chaturbate blocks any external platforms and could ban/deleted your account if you violate their terms.
Upload Photo
Don't show everything. A little nude, a little shy. That's the perfect combination. However, you might want to presents yourself as a dominating person or the opposite – as a slaver. Keep your videos private for the moment. Focus to sell your live shows, not videos. Why someone has to tip you if already saw everything wanted of you?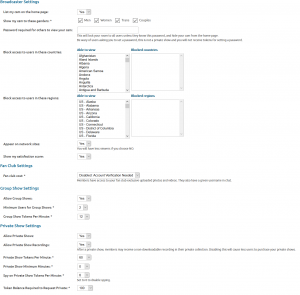 Chaturbate settings are flexible. Some men don't like to be watched by other men. Great! Disallow people that you won't see in your room. Forbid locations or regions.
Live Shows Settings
Group Shows and Private Shows are the way to get more privacy. Let's say you don't want to show yourself nude in front of everyone. That's OK. Chaturbate suggests you go to a private show where one person pays per minute to watch you. If multiple users want to join, you can do a group show.
Define criteria for private: how many tokens as a minimum a viewer should have to access your private show; etc.
Test broadcasting settings
Easy! Set a password to your profile and you can test whatever you want privately. Settling a password hide your room and only people that know your secret combination could enter into it and watching you.
Note: they still know when you're broadcasting.
Verify your payment information

Source:
In order to claim your revenue and accepting tokens that could exchange to USD, you must verify your account with a private (personal) ID launched by the government. Upload scanned the back and front side to your ID and send it to the official Chaturbate mail. The process of approval takes up to 7 days.
Model verification is required to prove that you're over 18 years old. It's a secure process. Chaturbate will keep your data safe.

No matter how long the verification takes, you can begin broadcast. Plus, test the website and how they boost the room in the categories where your live performance could appear.
Politely ask your viewers to subscribe to your room for future updates. Collecting followers is helpful. When someone came a follower to the room can receive a notification that you're on the air.
Alternatively, your room will be shown as online in the 'Favorites' section.
67% of the viewers browse the first three pages of a particular category.
More viewers = better ranking in the category.
Frequently Asked Questions
What are the network sites?
Chaturbate allows external websites to integrate, even embed, their content. So, that increases the number of concurrent viewers. You can exclude these external sources if you care about privacy.
If I set a password, who can see the room?
Only people subscribed to you could see that you're broadcasting (you're online) with a password. They won't be able to see even a thumbnail or a chat. If they don't know the current password, they cannot ask you or join.
How much worth 1 token?
At the moment (February 7, 2020), 100 tokens are equal to $10. Chaturbate keeps the commission of 50% (for serving service for broadcasting, payment management, and more features). That means the model would earn $5 for 100 tokens.
1 token = $0.05
10 tokens = $0.5
100 tokens = $5
May I broadcast and collect subscribers even I'm not verified yet?
Yes! You can gather followers even you've not verified on Chaturbate yet. Note that, you cannot withdraw money if you've already received tokens but still no verify the profile.
Is coronavirus isolation impacts model business?
Yes, in a positive way. Many people masturbate more than usual because of self-isolation. This way, you can expect more viewers. Of course, the pandemic will continue for a long time and most likely will build a need for more money and additional incomes. As a result, more people will broadcast comparing the period before the coronavirus situation. The health issue scope is worldwide.
Unfortunately, the revenue from broadcasting could be decreased for some models because many consumers will not be able to pay for a show. Anyway, this business potentialities to convert the regular view to a customer.

May I earn extra money, except through the tipping system?
Yes, you can collect contacts and potential consumers from your shows.
Ask them for Skype or other platforms that they use. Next, do private shows on Skype or any other platform and get paid by Paypal or another payment method.
Note: Chaturbate filters words like 'Skype'. If you would like to ask someone for Skype, first send them Private Message (PM) and modify the word Skype. For example:
do you have skp
do you have skupe
do you have sk pe
Most users know what you're asking for.
How to find a best approach to get tokens?
Getting tokens is not easy and you can ensure this! Approaching is the right word to achieve some cash from Chaturbate. Keep watching your visitors and be flexible. Communicate with a manner and try to find the weakest place to each tipper.